Bounce House Rentals in Hiram, Georgia, with JumpTastic!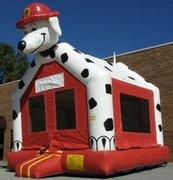 Serving Hiram and North Georgia Residents since 2000, Jumptastic offers quality products, great prices and complete professionalism. We are licensed, fully insured, and approved to set up in many parks. Bounce House Rentals in Hiram are a perfect foundation for any Children's event or party.

Jumptastic is the Hiram, Georgia Area's Premier Bounce House, Slide, Inflatable, Game & Party Inflatable Rental Company! Whether you're looking to add Bounce House rentals to your school, church, business, community festival or event, or you're hosting a exciting backyard party, we have what you need.
Call us at 404.537.1805
No Event too Big, No Party too Small.
We offer a huge selection of commercial inflatable Bounce House rental products and event rental services. Choose from a selection of over 900 party Bounce House rental items including many NEW items for this year!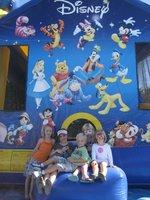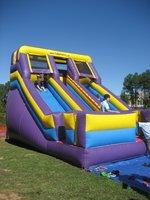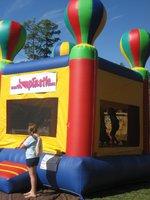 We offer delivery and set-up of Bounce Houses to all Hiram festival and events, including Children's Birthday Parties, Summer Camps, Daycares, Churches and Schools. A nominal mileage fee may apply. Click here for a complete mileage fee chart.
You can reserve your inflatable fun online 24/7. Simply click to enter the date of your event or party in the event calendar to begin.
To get some ideas to make your Hiram Children's Event or Party more exciting, browse through Jumptastic's vast Bounce House rental inventory by clicking here.

Decorations can make or break an event -- at the very least, they set the tone and the mood for the atmosphere surrounding your party. Take a look at our online party supply store and get party supplies, decorations, party favors, prizes and much more delivered directly to your door!


Jumptastic's goal is to provide selection and value without sacrificing safety, cleanliness, and fun! We have a large inventory of Hiram's most popular Moonwalks, Bounce Houses, Jumpers, Inflatable Wet & Dry Slides, Jump/Climb Combination Units, Obstacles Courses, Dunk Tanks, Toddler Inflatables, Children's Activity Centers, Interactive Inflatable Games and Art Events on the market. We also have a completely Trackless Train! Browse our website for prices and availability.
Add even more fun to your event or Party by renting one or more of our authentic carnival concession units including: Popcorn Machines, Snow Cone Machines and Cotton Candy Machines!
Our Large Event Service Area covers most of Georgia and the Atlanta Metro Area including: Forsyth County, Hall County, Gwinnett County, Fulton County, Dekalb County, Cobb County and other surrounding counties. Call 404-537-1805 for information on our Festival and Large Event solutions.
Jumptastic
At Jumptastic, we can help make your Hiram inflatable Bounce House party the best. We specialize in children's party entertainment by providing quality inflatable Bounce House rentals and other children's party products and party rental services:
Hiram, GA Bounce House rentals
Hiram Bounce House Rentals
Bounce House Rental Hiram
Bounce House Rentals in Hiram
Bounce House Rentals Hiram, GA
Commercial Bounce House Rentals Hiram, GA
Bounce House Rental in Hiram, GA
Bounce Houses for Rent Hiram
Princess Bounce House Rental Hiram, GA
Bounce House Party Rental Hiram, GA
Inflatable party rental Hiram, GA
Hiram, GA inflatable Bounce House
Hiram Bounce Houses
Kids Bounce House party rentals in Hiram
Childrens Bounce House Rentals Hiram, GA
Hiram, GA Inflatable Bounce House Rentals
Hiram Party Bounce House Rental
Toddler Bounce House Rentals Hiram, GA
Toddler Bounce Houses Hiram, GA
Bounce House Rentals Hiram
Kids Bounce House Rental Hiram, GA
Bouncy Houses Hiram, GA
Hiram Birthday Bounce House Rental
Bounce House Rental Hiram, GA
Bounce House Rentals Hiram
Boy Bounce House Rentals Hiram, GA
Hiram Inflatable Bounce Houses
Fun Inflatable Bounce Houses in Hiram