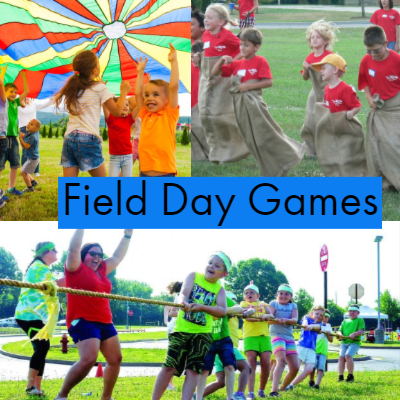 Field Day Game Package
Displayed Pricing = Up to 6 Hours (additional hours = 10% more per hour)
Next Day Pickup After 10 AM = 25% More
BEST VALUE - Multi-day = 50% More
PRICES INCLUDE DELIVERY & SETUP
Make your students' field day as memorable as possible! Jumptastic, Inc's Field Day Games Package comes with a variety of games that are guaranteed to keep kids entertained, active, and smiling. Play classic field day games like Sack Races or Tug-o-war, or try new games like Jump the Creek. Order your games now from Jumptastic, Inc for safe, and exciting Field Day fun!

Includes:
12 burlap sacks for sack races

12 orange cones and 6 batons for relay races or markers

100 water balloons for water balloon toss challenge game (to be filled with water at the event)

Tug-o-war rope with waist loops

Parachute for parachute games

2-10' multicolored ropes for

Jump the Creek

game.

(Written rules)
Why Choose the Field Day Games Package?
The large variety of active events is sure to keep the students entertained while exercising
You can play with the traditional rules for each game or create your own to accommodate all students!
These games are great for competitions between classes and making sure all students are involved.
All items are very safe to use and come with safety precautions, such as the waist loops on the Tug-o-war rope.
These games can be used indoors or outdoors, so your event is always on, rain or shine!
Why Choose Jumptastic, Inc?