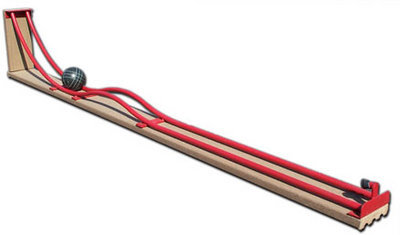 Roller Bowler Game
PRICES INCLUDE DELIVERY & SETUP
The Roller Bowler game from Jumptastic, Inc is the perfect example of the phrase "looks can be deceiving". It looks simple- all you have to do is roll the ball over the hump and make it stay in the zone between the hump and the hill. But of course, it is not as easy as it seems; push it too soft and it won't make it over the hump, or push it too hard and it'll just roll too high and come back to you. Order the Roller Bowler game now and test your physics skills!
Why Choose the Roller Bowler Game?
The ball fits perfectly on the track so it doesn't fall off and bounce everywhere
The barriers at the beginning and end of the 7' track keep the ball from flying off if you push too hard
Suitable for all ages, and small enough to put in almost any location at your event
Amazing for fundraisers, easy to set up a ticket system per attempt
Why Choose Jumptastic, Inc?