Tents Tables and Chairs
Atlanta Table and Chair Rentals
When planning a party or other event, it is important to remember to offer your guests a place to sit and eat. Jumptastic has a large selection of tent, table, and chair rentals for our Atlanta party rental customers. Maybe it's just a few extra tables and chairs for a backyard birthday party, our children's table and chair sets are just the tickets. If you are planning a larger event, we have a number of chair and table options to give your guests a place to rest and eat. At Jumptastic, we guarantee that your table and chair rental will be perfect: our items are sanitized and cleaned after each use, our online ordering is easy to use, and we guarantee to be at your event on time. We work with families and companies all over Atlanta looking for rentals for backyard parties or company events. Some of our customers include the Boy Scouts, Emory University, many schools and churches in Gwinnett, Forsyth, and Hall counties, Chik-Fil-A, and Delta Airlines. If you're looking for quality, value, fun, a great tent and table rental, and maybe even some concessions for your party, Jumptastic is here for all of your party needs!
Click Here to View
Table, Chair, and Tent Rentals from Jumptastic!
You can't go wrong with any of our licensed table and chair rentals. Whether you're looking to add some cover or you just want to be able to seat and serve your guests, we've got you covered. Our table and chair rentals are commercial quality, which means that they are made of high quality, waterproof plastic, and made to last for years and years to come. Unlike folding chairs and tables that you can buy at a local retailer, our tables and chairs include some of the highest safety standards. Here at Jumptastic, we want to help make your party go as smoothly as possible, so we clean and sanitize our party equipment after each use and guarantee on time delivery with professional setup. Yes, we do encourage our customers to take care of them and bring them back in a similar condition in which they receive them, but we take the additional step of doing the same upon their return. You can't go wrong with choosing Jumptastic for your table and chair rental needs.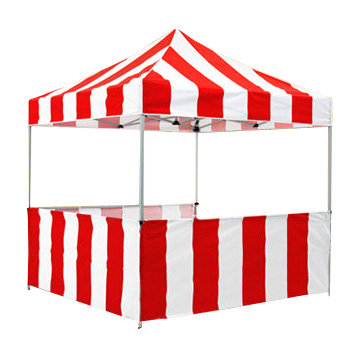 Featured Tent, Table and Chair Rental
This Pop-up canopy sets up quickly to provide shade and shelter at any outdoor event. This Carnival Themed tent will be sure to get everyone's attention and attract them to the food, fun games, prizes, and/or whatever your event offers, along with making a perfect addition to our other carnival-themed inflatables and games!
Why Choose the Carnival Theme Tent?
Large standing area, 10' x 10', allows for many people to fit under the tent
Whether you want to get some shade or protect from the rain, the large canopy and siderunners will help
The red and white design makes it look straight out of a circus, making it perfect for a carnival themed event
The tent is more than large enough to hold our banquet tables, which would be a great use of this temporary shelter
The siderunners could be used to act as a barrier to add a challenge to our

Interactive Games
Order Now!
Folding Chair and Folding Table Rentals for Any Party!
Not only is the ordering process seamless, the confirmation, setup, and pickup process is a breeze as well!

You can either choose to rent your tables and chairs and other items yourself with our easy online ordering process, or you can choose to call, email, or live chat with one of our team members and they will take you through the ordering process.

After you rent a tent, table, or chair, a member of our team will contact you within 24 hours to review and confirm the order. Then, on the day of the event, your delivery driver or team will call you to verify the window in which they plan to arrive. Once we arrive, we will:

1. Set up the equipment in the safest location possible.
2. Collect payment if anything is due.
3. Show you how to operate the equipment safely (event attendants are also available for an additional charge if you would like us to stay and operate the equipment)/.
4. Answer any questions you may have and verify pickup time.

That's it! A simple and fun way to rent party equipment for your party.
Yes! We rent tables, chairs and tents in Suwanee!
Customers Who Rented Tents, Tables and Chairs Also Rented: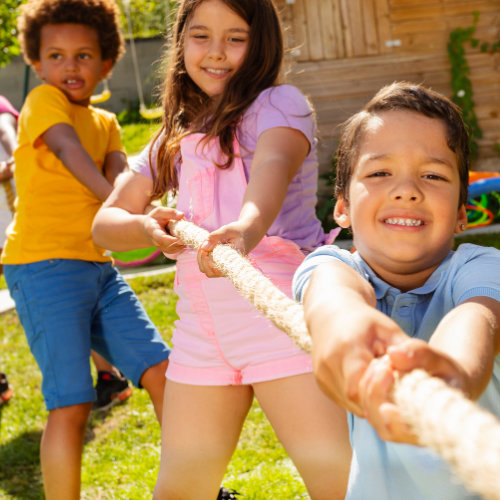 Carnival Games
Carnival game rentals offer a different form of entertainment than a bounce house and one that is more interactive. Whether it's a ring toss, duck pond, cornhole or another game, you can create anything from a fun way to spend the day or create your own carnival midway. Build your own fun for your party, themed party, corporate event, company picnic, school gathering or religious event. Our games are guaranteed to be a hit.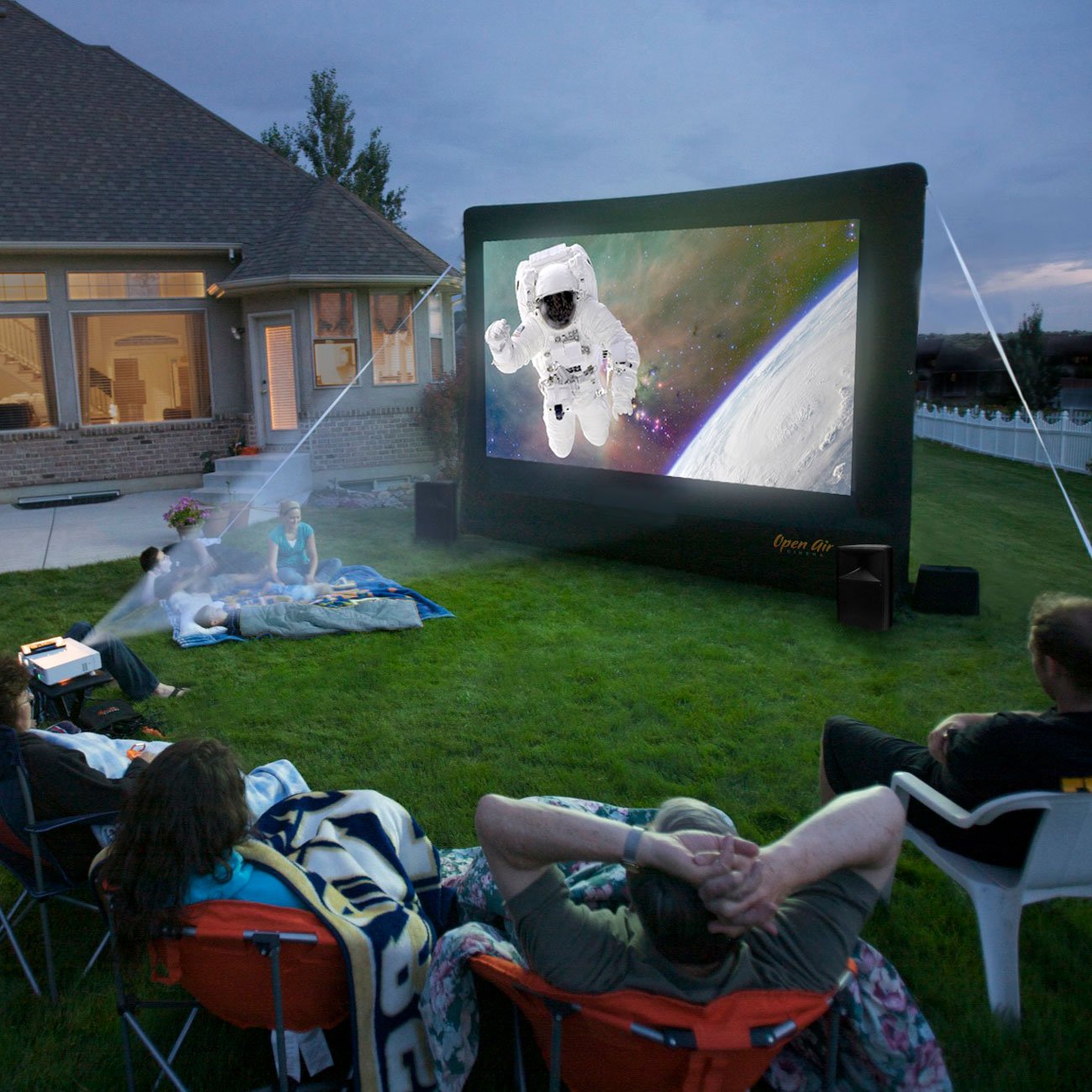 Outdoor Movie Screens
Bring the big screen to your own backyard, and enjoy a feature film in the open air. Our 12' Inflatable Outdoor Movie Projector Screen is a unique way to make family movie night more exciting! Set it up in your backyard or front yard and share with the neighbors. With a PlayStation 4 that can connect to WiFi, you can play any movie you would like. It's time to make time and break out the popcorn and blankets and chairs to make the next movie night a memorable one!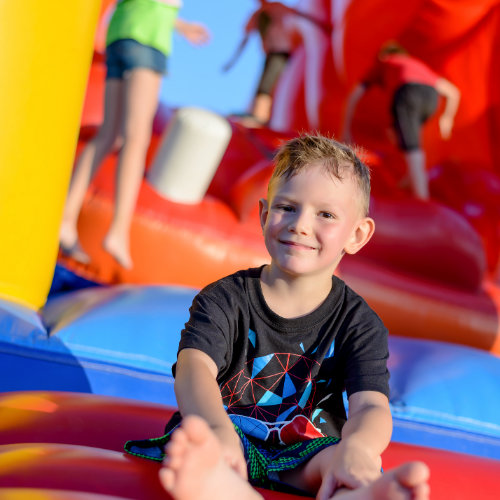 Obstacle Courses
The challenge is on! Get your group together for these exciting obstacle course rentals. Obstacle courses or "challenge courses" offer an awesome activity for all kinds of events. Great team-building exercise for corporate events, schools, and church groups, or rent one if you're just having a fun family gathering and you would like to add that extra attraction that brings everyone together. We work with all over Atlanta for backyard parties or company events.

Frequently Asked Questions for Suwanee
Tent, Table and Chair Rentals