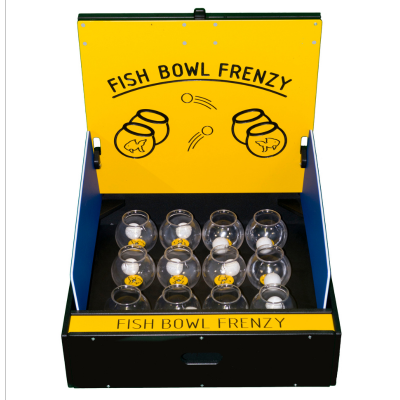 Fish Bowl Frenzy Carnival Game
Actual Size: 22 x 22 x 24 in. (open)




PRICES INCLUDE DELIVERY & SETUP

What do 12 fish bowls, tons of ping pong balls, and carnivals have in common? A fun time, that's what! Fishbowl games have been a carnival and American pastime for decades, creating smiles and memories for lucky guests. Our Fish Bowl Frenzy Carnival Case Game is a great addition to any event, especially for tailgates, carnivals, Halloween, or backyard parties. The game may look simple, but it is harder than it looks to land the ping pong ball into the fish bowl. Put your hand-eye coordination to the test. Add some fishy fun to your next event and order the Fish Bowl Frenzy Carnival Case Game today!
Why Choose the Fish Bowl Frenzy Carnival Game?
Includes multiple ping pong balls for multi-player action. All you have to do is find a great location to set the game up
Small size and light weight makes it easy to move and put in the perfect spot at your event
The included fish bowl frenzy backdrop is great for Carnivals, Summer Picnics, School events, Fall Fests, and Halloween. It can be set up on any surface, indoors or outdoors
Great for fundraisers, easy to set up a ticket system per turn or rent our Grand Carnival for an amazing package.
Why Choose Jumptastic, Inc?