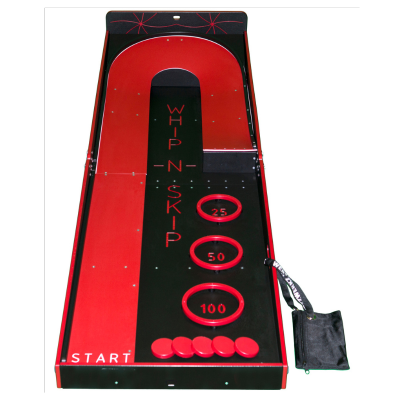 Whip N Skip Premium Carnival Game
Actual Size: 23in x 70.5in x 10 in. (open)




PRICES INCLUDE DELIVERY & SETUP

Slide the disc with just enough speed to land in the ring for points. Too quick it will go past, too slow and it won't event land. Looking for a suspenseful, exciting, and creative carnival game? Our Whip N Skip Premium Carnival Game is a great addition to any event, especially for tailgates, Carnivals, or backyard parties. The game may look simple, but it is harder than it looks. It's a game of finesse and skill. Put your hand-eye coordination to the test. Add some heart-pumping fun to your next event and order the Whip N Skip Premium Carnival Game today!
Why Choose the Whip N Skip Premium Carnival Game?
Includes 5x hard discs for multi-player action. All you have to do is find a great location to set the game up
The larger size and premium quality make it easy to move and put in the perfect spot at your event. Have your guests say WOW!
The included roller coaster-like track is amazing for Fall Fests, Carnivals, and Halloween. It can be set up on any surface, indoors or outdoors
Great for fundraisers, easy to set up a ticket system per turn or rent our Grand Carnival for an amazing package
Why Choose Jumptastic, Inc?