Tent Rentals Are Perfect For All Occasions
At Jumptastic, we're not just a tent rental company; we're a team of fun-loving, energetic individuals who are passionate about helping you create unforgettable memories. We believe that every event, whether it's a wedding, graduation, party, or any other special occasion, deserves the perfect setting. And what better way to provide that than with our top-notch tent rentals?
Our wedding tent rentals are designed to bring your dream wedding to life. We understand that your wedding day is one of the most important days of your life, and we're here to ensure it's nothing short of perfect. Our tents are not just a shelter from the elements; they're a canvas for your creativity. Whether you're planning a small, intimate ceremony or a grand, lavish celebration, our wedding tent rentals can accommodate your needs. They're spacious, sturdy, and stylish, providing the perfect backdrop for your special day.
Graduation is a milestone that deserves to be celebrated in style. Our graduation tent rentals are designed to accommodate large crowds, ensuring that all your loved ones can join in the celebration. They're also versatile, allowing you to customize the layout to suit your needs. Whether you're hosting a formal dinner or a casual get-together, our graduation tent rentals can provide the perfect setting.
When it comes to party tent rentals, we've got you covered. Literally! Our party tents are designed to keep your guests comfortable and protected, no matter the weather. They're also incredibly versatile, allowing you to transform any space into a party venue. Whether you're planning a birthday bash, a family reunion, or a corporate event, our party tent rentals can accommodate your needs.
But we don't just stop at weddings, graduations, and parties. Our event tent rentals are perfect for any occasion. Whether you're hosting a charity event, a music festival, or a sporting event, our tents can provide the perfect setting. They're spacious, sturdy, and stylish, ensuring that your event is a success.
At Jumptastic, we believe in providing our customers with the highest level of professionalism. We treat each customer as an individual, not a number. We understand that each event is unique, and we're here to help you create a memorable experience. Our team is always on hand to answer any questions you may have, and we're committed to providing you with the best service possible.
So, if you're planning an event and need a tent, look no further than Jumptastic. We're here to help you create a memorable experience that your guests will be talking about for years to come. With our tent rentals, you can rest assured that your event will be a success. So why wait? Contact us today and let us help you create unforgettable memories.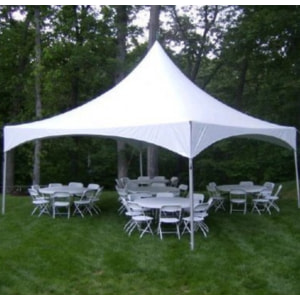 Featured Tent Rental
20 x 20 High Peak Tent Package (Seating 32)
Rest easy with Jumptastic's 20 x 20 High Peak Tents Package that offers shade for up to 32 guests or an area to comfortably prepare food for your guests! This package includes our friendly staff doing all the legwork of setting up the tent, tables, and chairs. Let our staff take care of the heavy lifting so you can focus on the other aspects of your event and guests.

Invite your friends, family, and the entire block to experience these clean, professional, and sturdy 20 x 20 High Peak Tents. Each tent package can be set up on grass or pavement. Combine multiple tents to be configured into 20x40, 20x60, 20x80, or 20x100. Looking to customize your tent? Contact us directly for a quote and details.

Not your typical pole tent:

The design of our High Peak tent features its high "ceiling" that gives an airy feel to your event while not being obtrusive. There is no center pole which is an eyesore or trip hazard. This allows your guests to move around free of obstruction.

Why Choose the 20 x 20 High Peak Tent Package?

This package includes your tent rental that will be set up by our friendly staff, as well as tables and chairs for up to 32 guests. We will also include white table covers!
Book Online Now
Corporate Tent Rentals
Looking for a way to jazz up your next corporate event? Jumptastic has got you covered, literally! We're not just about bounce houses and inflatable slides, we're also the go-to folks for corporate event tent rentals.

Our tents are like the perfect party guest - they're adaptable, reliable, and they sure know how to spruce up a place. Whether you're hosting a small team-building retreat or a large-scale industry conference, we've got a tent that'll fit right in.

We know, corporate events can sometimes be a bit, well, corporate. But with Jumptastic, you can expect a dash of fun and a whole lot of professionalism. We're all about bringing that lighthearted, refreshing energy to your event, making it a memorable experience for all your attendees.

Our team is as sturdy and reliable as our tents, always ready to jump in and help. We'll handle the logistics of your tent rental, so you can focus on nailing that presentation or schmoozing with industry bigwigs.

So, next time you're planning a corporate event, remember - Jumptastic is just a call away. Let's make your event the talk of the town, one tent rental at a time!
Book Online Now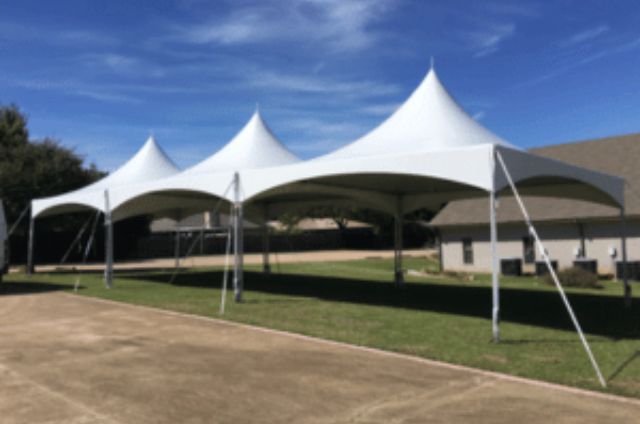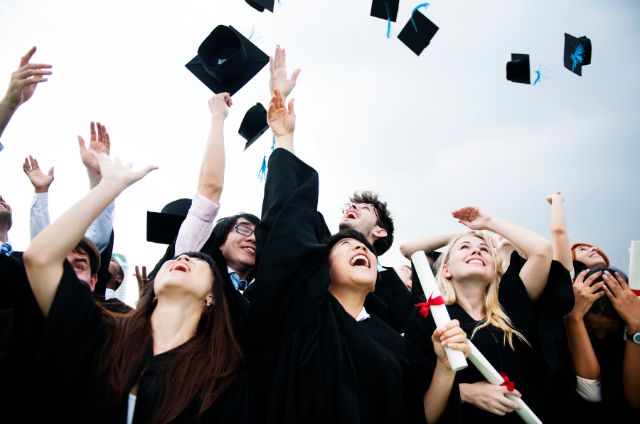 Tents are Perfect For Graduation Parties
Future graduates and parents of future graduates! Congrats on your accomplishment! Now, are you ready to toss your caps high and celebrate in style? At Jumptastic, we're all about adding that extra dose of fun and excitement to your special day with our graduation tent rentals.

We know you've worked hard to reach this milestone, and we believe your graduation party should be nothing short of spectacular. Whether you're planning a small gathering with your closest friends or a massive party that's the talk of the town, we've got the perfect tent for you.

Our graduation party tent rentals are not just about providing shelter; they're about creating an atmosphere. A place where you can dance like nobody's watching, laugh until your sides hurt, and make memories that will last a lifetime.

And don't worry, we're not all fun and games. We're professionals who take your happiness seriously. We'll handle the nitty-gritty details, so you can focus on having a blast.

So, ready to make your graduation party epic? Give Jumptastic a call. We're here to make your day as special as you are. After all, graduation is a big deal, and we're all about celebrating big!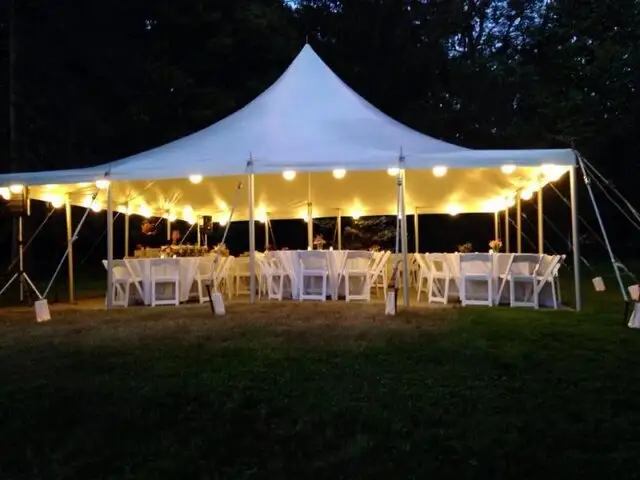 Atlanta Event Tent Rentals
Tent Rentals for Any Event by Jumptastic
Tent rentals have become a popular choice for outdoor business events, conferences, corporate gatherings, and festivals. We have the city's newest and largest inventory of tent rentals, including 20x20 tent rentals, that can be used alone or combined in various configurations to suit your needs.

Not only is the ordering process seamless, but the confirmation, setup, and pickup process is also a breeze as well!

You can either choose to rent your tent and other items yourself with our easy online ordering process, or you can choose to call, email, or live chat with one of Jumptastic's team members, and they will guide you through the ordering process. At Jumptastic, we guarantee that your tent rental will be perfect: our items are sanitized and cleaned after each use, our online ordering is easy to use, and we guarantee to be at your event on time. We work with businesses all over the city, providing tent rentals near you for company events.

Some of our corporate clients include local universities, renowned restaurants, and airlines. All of our tent rental pricing include delivery and setup. If you're looking for outdoor tent rentals for your business event, we are here for all of your needs!
Do You Deliver Tent Rentals Near Me?
Serving most of North Georgia, Jumptastic is Atlanta Metropolitan Area choice for event and party rentals! We offer a broad selection of entertainment, fun foods, and setup equipment for any size event. Tent Rentals, Tables and Chairs, popcorn machines, cotton candy machines, sno-cone machines, Concession Supplies, Carnival Games and more. Our vast rental inventory also includes the region's broadest selection of inflatables for all ages; Bounce Houses, Tent rentals, Bounce and Slide Combination Rides, Dry Slides, Water Slides and Dunk Tanks, Obstacle Courses, Interactive Games, Playlands and much more. And we can even offer event attendants to help with the crowd. We even have Inflatables that can be customized to fit your party theme, awesome Foam Parties for unique party themes, and Generators to power it all. With so much to choose from, we can help you plan the perfect party or event.
Our Service Area
Proud to Serve The Following Areas:
If your party or event is beyond that radius, just let us know! We may be able to make special accommodations to suit your event.
NOTE: Fees may vary depending on how far you are outside our service area.
https://www.google.com/maps/d/u/0/embed?mid=19upPeF5ZEjd8Lvx61kluMxiZdWyiGf0P&ehbc=2E312F
Customers Who Rent Party Tents Also Shopped for

Water Slide Rentals
There's nothing that is more fun than feeling the wind through your hair going down a fun water slide! We offer water slide rentals for kids and adults of all ages. These are a sure-fire way to keep them cool and make them laugh and smile.

Table & Chair Rentals
It is better to have and not need than to need and not have. With Jumptastic, we have all the party equipment necessary to make sure your party is a hit! Tables, chairs, generators, and more. We got you covered with our party rentals!

Party Snack Rentals
No party is ever complete without snacks! Jumptastic provides you with popcorn machines, cotton candy machines, snow cones, and more. We have all the carnival snack machines you will need for your party or event.
Frequently Asked Questions About Party Tent Rentals
Families and event planners choose Jumptastic because:
We help you plan the delivery, setup, and take down time so that your event is a "go" before guests arrive and rented items are quickly packed away when the event is over.
We provide world-class customer service. A lot of companies say it, but our reviews prove it.
We offer event planning checklists upon request to help you throw the perfect party.
We're more than a party rental company: we're your guide to all things party rentals.
What types of parties and events do you provide tent rentals for?
We haven't come across an event for which we couldn't provide tents rentals or other party rental items, but if you have doubts, simply reach out to us either via our online chat or by calling 404-537-1805 to discuss your event with one of our party rental specialists. We would love to help you bring the party you have in mind to reality.
How far in advance should I place my reservation?
That's an excellent question. We know how it feels to wait, circle back to the site, and discover the item you want was booked by someone else.

Book as soon as you know the details of your event. We offer a risk-free cancellation up to 24 hours before your event for a full refund of any money you've paid as a deposit. We know crap happens. Weather changes, kids get sick, and plans change. You're in good hands with Jumptastic.
What form of payment do you accept?
Electronic payments or checks only.
Do you offer multi-unit discounts?