Bounce House Rentals &
Water Slide Rentals in Alpharetta
With FREE Delivery & Setup!
Book Online Now
Bounce House Rentals &
Water Slide Rentals in Alpharetta
With FREE Delivery & Setup!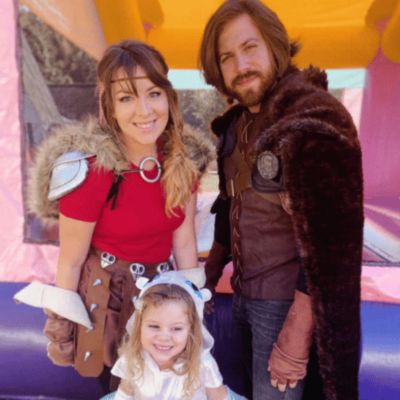 Leap into Alpharetta's Bounce House Wonderland!
Unleash the Fun with Jumptastic Alpharetta!
Hey Alpharetta, are you pumped to take your upcoming shindig to stratospheric heights of joy? Say no more! Jumptastic is your ticket to morphing your regular get-togethers into legendary fiestas that'll have folks leaping for joy—no kidding! We're not just slinging a bounce house rentals, we're offering a full-on buffet of bouncy house delights that'll make your soiree the buzz of Alpharetta!

Here at Jumptastic, we totally vibe with you – each celebration is as one-of-a-kind and unique as you! Planning a little one's birthday extravaganza, a neighborhood carnival, or an office morale-boosting day? We've got the bounce house rentals that jive with your style. From our tropical vibes bounce house to our fairytale princess bounce house rentals, our variety is as eclectic as the vibrant city of Alpharetta itself!

But hold the phone, there's even more awesomeness! Our bouncy houses are crafted from premium materials that are as sturdy as they are eye-catching. Imagine inflatables that can endure the fervor of a tween brigade and still look like they just stepped off the runway! And let's not overlook the comfort factor –don't be surprised if you catch Grandpa bouncing back to his youth!

Size? Oh, we've got sizes! Whether you're hosting a cozy backyard bash or a grand event in a vast park, our bounce house rentals are a perfect fit. From small setups for intimate venues to our Mega Dome Event Bounce House that offers a whopping 450 feet of bouncy bliss, we've got all your bases covered!

So, Alpharetta, are you set to make your upcoming gathering Jumptastically epic? Book online, ring us up, or shoot us a message – whatever tickles your fancy! Let's turn your bounce house fantasies into reality.
Transform Your Next Bash into a Bounce House Bonanza!
What's up, Alpharetta! Are you set to catapult your festivities from "so-so" to "OMG"? Strap in, because Jumptastic is about to school you on how to host a bash that'll have the whole neighborhood rubbernecking! We're not just hyping up a regular ol' shindig – we're talking about a Jumptastic fiesta that'll get everyone, from the little tykes to the golden-agers, hopping with excitement!

You might be pondering, "Bounce houses? Isn't that kiddie stuff?" Think again, my friend! You, your pals, and your fam will be giggling and bouncing like you've stumbled upon a youth elixir. Yep, our bounce house rentals are more than just air-filled fun zones, they're nostalgia capsules that transport you to the worry-free playgrounds of yesteryears!

Ever fancied executing a backflip in a bounce house? Or perhaps a barrel roll? Or are you the "chill and watch the antics" type? Regardless, our bounce house rentals are a playground of infinite possibilities. Picture a round of musical corners but in a bounce house rental. The tunes halt, and it's a mad dash to claim a spot. Last one up is the champ! It's the sort of amusement that makes your daily grind and laundry mountain vanish from thought.

Let's gab about quality for a sec. At Jumptastic, we're committed to delivering the crème de la crème. Our bounce houses are crafted from elite materials that can endure even the most zealous of bouncers. We're talking about inflatables that are as robust as they are springy. No drooping, no air loss, just 100% unfiltered joy!

Now, onto the serious stuff – safety. We know it's on your radar, and guess what? It's on ours too! Our bounce house rentals come with safety bells and whistles that ensure everyone's having a blast without any "uh-oh" incidents. From rock-solid anchors to flame-retardant fabrics, we've got all the bases covered so you can relax.

And the themes? Oh, you're in for a treat! Whether you're throwing a royal gala or a classic beach bash, we've got a bounce house rental that'll make your heart sing. Want to go big? Check out our hybrid units that feature an attached water slide. Yep, a bounce house with water slide combo! It's like feasting on your cake and still having room for more—but way more bouncy!

So, Alpharetta, are you amped to skyrocket your next gathering to Jumptastic heights of epicness? Don't settle for a cookie-cutter event when you can have a Jumptastic blowout that'll be the buzz of the block. Ring us, email us, or if you're vibing retro, send a smoke signal. Whatever your style, don't snooze on the Jumptastic thrill ride. It's not just a party, it's a way of life!
Dive into Alpharetta's Ultimate Water Slide Adventure!
Unforgettable Splash Moments with Jumptastic!
Ready to turn your Alpharetta shindig into a splash-a-palooza? Jumptastic's water slide rentals are your golden ticket to a splashingly epic time! These aren't just some side attractions, they're the star of the show, delivering a wave of excitement and a splash of pizzazz that'll make your event the stuff of legends.

We've got the perfect water slide rental for every vibe. Planning a kiddo's bash? Our smaller water slide rentals are a smash hit with the little ones, offering just the right blend of excitement and refreshment. Coordinating a grander affair? Our colossal water slides and slip and slides are iconic landmarks, offering a heart-pounding descent that's nothing short of exhilarating.

But wait, the splash-fest continues! Our water slide rentals come in an array of themes and designs, crafted to whisk you away to fantastical realms. Ever dreamt of cascading down a pirate vessel or challenging your pals on a twin-track slide? With Jumptastic's water slide rentals, those dreams become reality. Our themed slides add that extra oomph, transforming your gathering into a mini amusement park.

Quality? You betcha. Safety? It's in the bag. Each of our water slide rentals goes through stringent checks and upkeep to meet the loftiest safety benchmarks. Crafted from top-tier materials that are built to endure, you can let loose and enjoy without a care in the world.

So, if you're on the hunt to make a big splash at your upcoming Alpharetta event, search no more. Jumptastic's water slide rentals offer an experience that's downright thrilling. With a spectrum of choices tailored for all ages and occasions, we're your one-stop-shop for aqua-tastic fun in Alpharetta.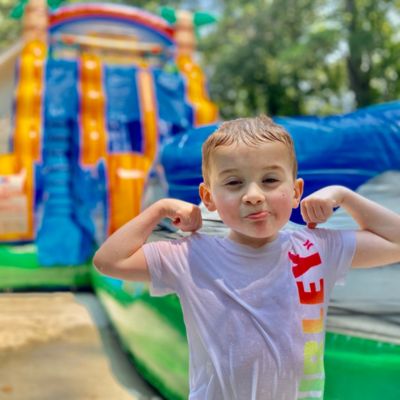 Slide into Alpharetta's Ultimate Water Park Adventure!
Ready to plunge into the most epic day ever? Jumptastic is your magic wand to transform your Alpharetta backyard into a splashy paradise! Picture the exhilaration of rocketing down a water slide rental, the breeze singing past your ears, and that monumental splash as you make your landing – all in the comfort of your own turf! Now that's what we call a party level-up!

But hang on to your swim caps, because the Bentley of all water slides! Our water slide rentals are equipped with misting systems that keep you as chill as an ice cube, cloud-like landing zones that feel like a heavenly splashdown, and surprise zigzags for thrill-seekers. It's as if your go-to roller coaster and water park had an epic offspring!

And for the skeptics who think they've seen every trick in the book, brace yourselves for a game-changer! Our combo units are the multitool of amusement and fun – water slides with bounce houses rolled into one! It's like hosting an adventure island right in your backyard. Your guests will be gobsmacked!

Now, let's get down to brass tacks. You might be wondering, "Is this all on the up-and-up?" A resounding yes! While we're champions of fun, we're also guardians of safety. Our water slide rentals are constructed like a fortress, featuring slip-resistant surfaces, rock-solid anchors, and all the safety frills. So go on, slide like you're the star of the show!

What sets Jumptastic apart? It's our heart and soul. From the moment you dial us up to the instant we pack it in, you'll feel like an honorary member of the Jumptastic tribe. We tackle all the minutiae, from installation to dismantling, so you can zero in on the fun. Because let's face it, that's what it's really all about, right?

So why choose Jumptastic? Because we're not merely in the water slide rental game; we're in the awe-inspiring, memory-making league. We offer the kind of fun that makes you forget your grown-up status and reminds you of the sheer bliss of letting your hair down. It's a Jumptastic water slide odyssey!

In a universe addicted to pixels, our water slide rentals are a gulp of crisp, splashy freedom. They're an antidote to the sizzle and a cure for the ordinary. They're about getting lively, getting social, and above all, getting ecstatic. So if you're pumped to morph your next Alpharetta event into a Jumptastic spectacle, you know the drill. Let's create some ripples!
Why Choose Jumptastic For Your Inflatable Party Rentals?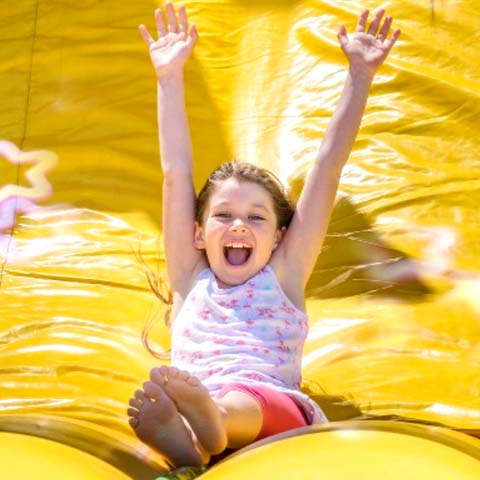 Easy Online Reservations
Select the party date and time. Select what you want. Enter your information. Pay a small deposit. Done :)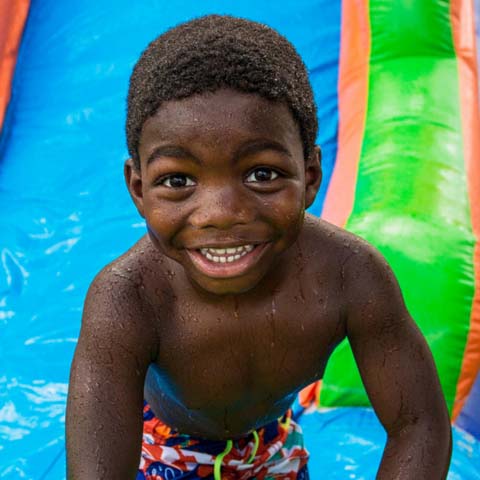 Awesome Products
Each year, we continue to invest in the latest and greatest equipment to increase the "coolness" factor as well as safety of our items.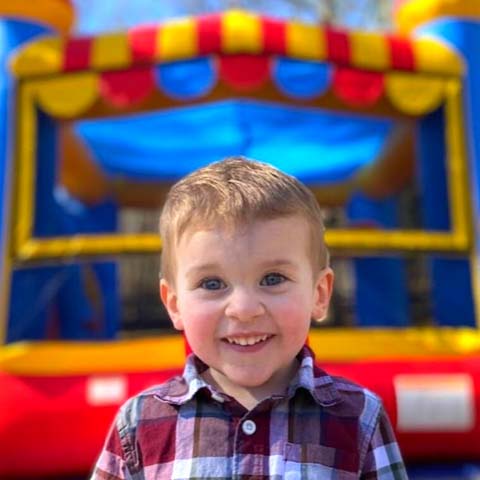 Free Delivery
Nobody likes delivery or surprise fees at checkout. That's why at Jumptastic, they don't exist. Just meet your area's order minimum and that's it!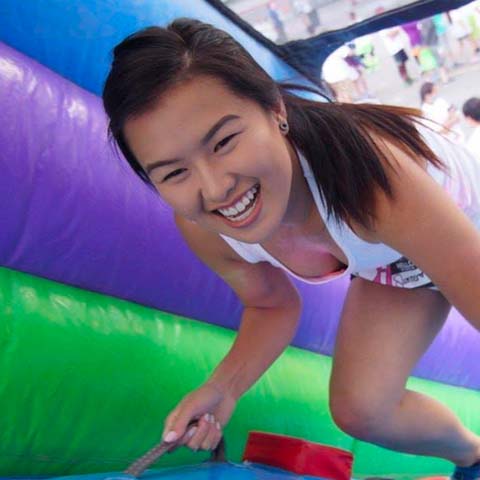 Service You Can Trust
With over 60,000 events served, 800+ 5-Star Google Reviews, a preferred provider to many of Alpharetta's great organizations, and 2 decades of service, it's no wonder Georgians choose Jumptastic for their events.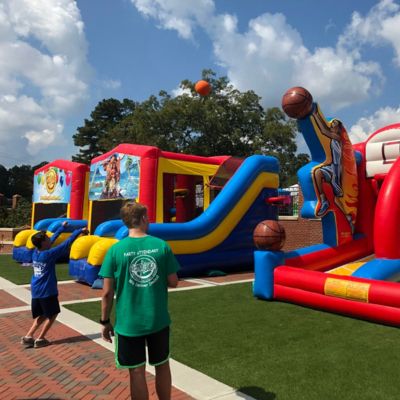 Jumptastic: Alpharetta's Go-To for Community Event Magic!
From Backyard Bashes to Community Galas, We've Got You Covered!
Jumptastic is not merely in the business of bounce houses and water slides, we're in the art of crafting indelible moments that unite communities. Be it a neighborhood festival, a spiritual gathering fundraiser, or a grand opening fiesta, Jumptastic inflatable party rentals are often the secret sauce that adds that extra zing of happiness and excitement. Our vast collection extends beyond our fan-favorite bounce houses and water slides to encompass interactive challenges, obstacle races, and even concession snack stations. Picture a community athletic day jazzed up with our interactive games or a philanthropic event sweetened by our popcorn and cotton candy machines.

Jumptastic's party rentals are a community ally. We've been the lifeblood of innumerable community happenings, from Independence Day blowouts to local educational fairs. Our party rentals are the pulse of numerous festivities, delivering not just amusement, but also a sense of belonging. We grasp the distinct demands of various events and offer tailored solutions to guarantee your gathering is a smash hit.

Safety is our non-negotiable, which is why each of our inflatable rentals undergoe stringent scrutiny and upkeep. Our top of the line inflatables allow you to zero in on the joy rather than fret over safety. And our dedicated team is devoted to delivering unparalleled customer care from the moment you reach out until the curtain falls on your successful event.

Our user-friendly online booking system streamlines the reservation process for organizers, and our transparent fee structure ensures zero hidden surprises. We even roll out free delivery within our service radius, making sure your journey with us is seamless from the get-go to the grand finale.

So, the next time you find yourself at an Alpharetta community event, witnessing kids giggling as they whoosh down a water slide, or families munching on popcorn from one of our snack stations, know that Jumptastic is the invisible hand making it all tick. We're supply the tools and create community memories, one celebration at a time!
Do You Deliver Bounce Houses and Water Slides Near Me In Alpharetta?
Serving most of North Georgia, Jumptastic is Atlanta Metropolitan Area choice for event and party rentals! We offer a broad selection of entertainment, fun foods, and setup equipment for any size event. Tent Rentals, Tables and Chairs, popcorn machines, cotton candy machines, sno-cone machines, Concession Supplies, Carnival Games and more. Our vast rental inventory also includes the region's broadest selection of inflatables for all ages; Bounce Houses, Tent rentals, Bounce and Slide Combination Rides, Dry Slides, Water Slides and Dunk Tanks, Obstacle Courses, Interactive Games, Playlands and much more. And we can even offer event attendants to help with the crowd. We even have Inflatables that can be customized to fit your party theme, awesome Foam Parties for unique party themes, and Generators to power it all. With so much to choose from, we can help you plan the perfect party or event.
Our Service Area
Proud to Serve The Following Areas:


See a complete list of our
delivery area: Click Here
If your event is beyond that radius, just let us know! We frequently deliver even farther out, and special accommodations can usually be made to suit your needs - and your wallet.
NOTE: Fees may vary depending on how far you are outside our service area.
https://www.google.com/maps/d/embed?mid=19upPeF5ZEjd8Lvx61kluMxiZdWyiGf0P&ehbc=2E312F