Bounce House Rentals &
Water Slide Rentals in Lawrenceville
With FREE Delivery & Setup!
Book Online Now
Bounce House Rentals &
Water Slide Rentals in Lawrenceville
With FREE Delivery & Setup!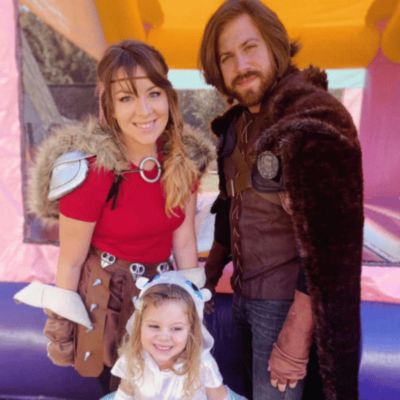 Lawrenceville's Bounce House Paradise!
Elevate the Excitement with Jumptastic Lawrenceville!
Hey Lawrenceville, are you jazzed to rocket your next social affair to celestial peaks of delight? You're in luck! Jumptastic is your golden ticket to transforming your usual get togethers into epic jubilees that'll have everyone somersaulting with glee – seriously! We're not merely delivering your inflatable bounce houses. We're delivering a feast of bounce house rental options that'll make your gathering the talk of Lawrenceville!

At Jumptastic, we're on the same wavelength—every festivity is as special as you! Got a kiddo's milestone birthday, a local festival, or a corporate bonding session on the horizon? We've got the bounce house rentals that resonate with your party vibe. From our island oasis bounce house rental to our knight's castle bounce house rentals, our assortment is as varied as the lively city of Lawrenceville itself!

But hang on, there's a cherry on top! Our bouncy domains are constructed from first-rate materials that are as resilient as they are dazzling. We're talking inflatables that can survive the zeal of a youth squad and still look Insta-worthy! And comfort? You bet – don't be shocked if you see Aunt Sally bouncing like it's 1999!

And about those sizes – we've got you! Whether you're orchestrating a quaint garden party or a colossal event in a sprawling field, our bounce house rentals are your perfect match. From snug designs for limited spaces to our Colossal Dome Event Bounce House that features an incredible 450 feet of leaping joy, we've got you sorted!

So, Lawrenceville, are you geared up to make your next bash Jumptastically legendary? Book through our website, give us a buzz, or send us a quick email –whatever makes your heart sing! Let's bring your bounce house daydreams to life.
Let's Turn the Fun Up to 11 with Bounce House Rental Fun!
Hey Lawrenceville, are you primed to amp your celebrations from "blah" to "YEEHAW"? Hold onto your hats, because Jumptastic is about to unveil the secret sauce for hosting a rager that'll have the neighbors craning their necks for a peek! We're spicing up basic get-together and orchestrating a Jumptastic jubilee that'll have everyone, from the tiny tots to the seasoned citizens, leaping with glee!

You might be scratching your head, thinking, "Bounce houses? Isn't that child's play?" Time to flip the script! You, your buddies, and your family will be chuckling and bouncing as if you've tapped into a hidden well of eternal youth. That's right, our bounce house rentals are inflatable playgrounds with portals to the past days of your youth!

Ever thought of pulling off a handspring in a bounce house? Or maybe a double twist? Or perhaps you're the "sit back and soak in the hilarity" sort? No worries, our bounce house rentals are your canvas for endless shenanigans. Envision a game of freeze tag, but in a bounce house. The music pauses, and it's a scramble to claim your territory. Last one in is the life of the party! It's the kind of play that makes you forget your inbox and that looming deadline.

Let's dish on quality. At Jumptastic, we're all about serving you top-shelf fun. Our bounce houses are stitched from premium materials that can take on even the most fervent jump-a-holics. We're talking inflatables that are as steadfast as they are buoyant. No wilting, no fizzling out, just pure, exhilarating fun!

And now for the crucial part – safety. We know it's top of mind for you, and it's a priority for us too! Our bounce house rentals are engineered with safety mechanisms that ensure everyone's having a ball without any "whoopsie-daisies." From iron-clad anchoring systems to fire-proof materials, we've thought it all through so you can let your hair down.

What about themes? Prepare to be wowed! Whether you're orchestrating a superhero saga or a laid-back beach fiesta, we've got a bounce house that'll fit your theme like a glove. Want to go all out? Feast your eyes on our combo units that boast a water slide. Yes, a bounce house with water slide! It's like hitting the jackpot, but way more bouncy!

So, Lawrenceville, are you revved up to elevate your next affair to Jumptastic stratospheres of awesomeness? Don't settle for a humdrum event when you can host a Jumptastic spectacle that'll be the chatter of the community. Call us, drop us a line, or if you're feeling nostalgic, send a message in a bottle. Whatever you choose, don't miss the Jumptastic rollercoaster. It's not just a fiesta – it's a lifestyle!
Make Waves at Your Lawrenceville Event with Jumptastic Water Slides!
Splash into Unforgettable Water Slide Fun!
Eager to elevate your Lawrenceville fiesta into a splash-frenzy? Jumptastic's water slide rentals are your VIP pass to a wet and wild extravaganza! These are the headline acts delivering a torrent of thrills and a burst of splashy delight that'll etch your event into local lore.

We've got a water slide tailored for every occasion. Hosting a tot's celebration? Our compact water slide rentals are a kiddie crowd-pleaser, offering the ideal mix of splash and sizzle. Planning something on a grander scale? Our mammoth water slides and slip and slides are monumental attractions, guaranteeing a pulse-pounding plummet that's pure adrenaline.

But hold your seahorses, the aquatic adventure doesn't end there! Our water slide rentals are available in a medley of themes and configurations, designed to teleport you to various wonderlands. Ever fantasized about sliding down a dragon's back or going head-to-head with friends on a dual-track slide? With Jumptastic's water slide rentals, you're the captain of your own splashy destiny. Our thematic slides add that extra zing, morphing your event into a mini water park.

Quality? Absolutely. Safety? It's our middle name. Each water slide rental in our arsenal undergoes meticulous inspections and maintenance to meet the pinnacle of safety criteria. Made from premium, durable materials, you can dive in and revel without a second thought.

So, if you're keen to make a tidal wave at your next Lawrenceville gathering, look no further. Jumptastic's water slide rentals offer an experience that's not just soaked, it's electrifyingly entertaining. With options to fit all ages and event types, we're your ultimate port of call for splash-tacular amusement in Lawrenceville.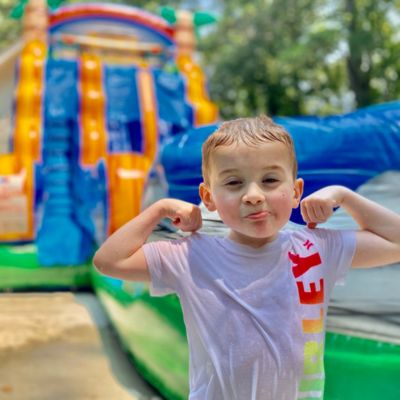 Epic Water Slide Splash Moments Await!
Geared up to dive into the most unforgettable day you've ever had? Jumptastic is your key to morphing your Lawrenceville backyard into a splash kingdom! Imagine the rush of hurtling down a water slide rental, the air whistling past your face, and that grand finale splash as you touch down – all without leaving your own backyard! That's a party transformation for the books!

But don't just grab your goggles yet, because we're not dealing in run-of-the-mill water slides; we're serving up the Ferraris of the slide world! We've got water slide rentals featuring built-in misters for that ultra-cool vibe, heavenly soft landing zones that feel like you're splashing into a dream, and adventurous curves and loops for the daring souls. It's as if your favorite amusement park and water resort had a love child!

And for those who reckon they've experienced every thrill, prepare for a jaw-dropper! Our combo units are the ultimate fun Swiss Army knife – water slides with bounce houses fused into one epic package! It's like having a mini theme park right in your own backyard. Your guests will be floored!

Now, let's get serious for a hot second. You might be asking, "Is all this really safe?" A big, fat yes! While we're all about the fun factor, we're equally committed to your safety. Our water slides are built like a tank, complete with anti-slip surfaces, iron-clad anchors, and all the safety extras. So go ahead, slide like you're the star of your own movie!

What makes Jumptastic truly extraordinary? It's our genuine care. From the instant you reach out to us to the moment we pack up and head out, you'll feel like you've joined the Jumptastic family. We take care of all the nitty-gritty, from the setup to the takedown, freeing you to focus solely on the fun. Because, let's be real, isn't that the whole point?

So why opt for Jumptastic? Because we're not just in the water slide rentals biz; we're in the realm of creating awe and forging unforgettable memories. We deliver the kind of fun that makes you momentarily forget your adult responsibilities and reminds you of the pure joy of uninhibited play. It's not merely a slide; it's a Jumptastic adventure!

In a world obsessed with digital screens, our water slide rentals are a gulp of fresh, invigorating air. They're not just a remedy for the summer heat. They're a cure for the mundane. They're about getting active, getting connected, and most crucially, getting ecstatically happy. So if you're set to transform your next Lawrenceville event into a Jumptastic marvel, you know what to do. Give us a ring and let's stir up some splashy excitement!
Why Choose Jumptastic For Your Inflatable Party Rentals?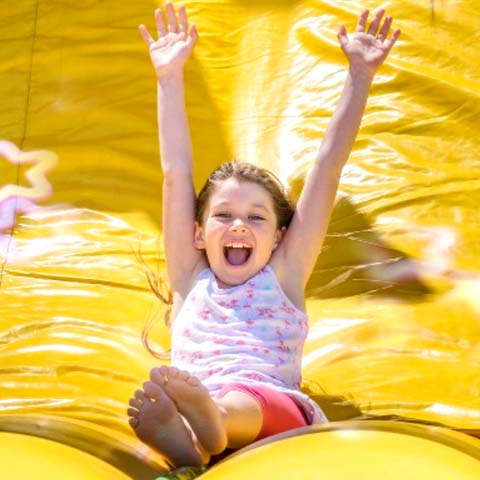 Easy Online Reservations
Select the party date and time. Select what you want. Enter your information. Pay a small deposit. Done :)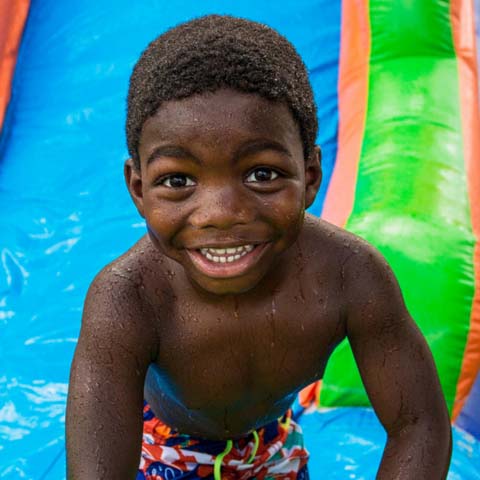 Awesome Products
Each year, we continue to invest in the latest and greatest equipment to increase the "coolness" factor as well as safety of our items.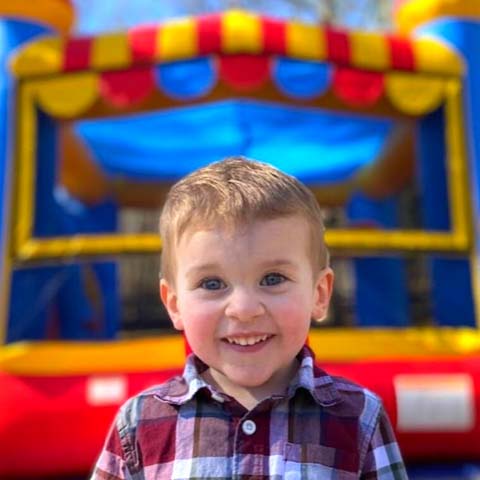 Free Delivery
Nobody likes delivery or surprise fees at checkout. That's why at Jumptastic, they don't exist. Just meet your area's order minimum and that's it!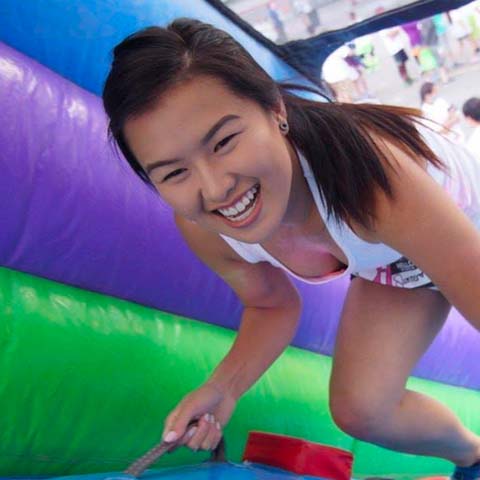 Service You Can Trust
With over 60,000 events served, 800+ 5-Star Google Reviews, a preferred provider to many of Lawrenceville's great organizations, and 2 decades of service, it's no wonder Georgians choose Jumptastic for their events.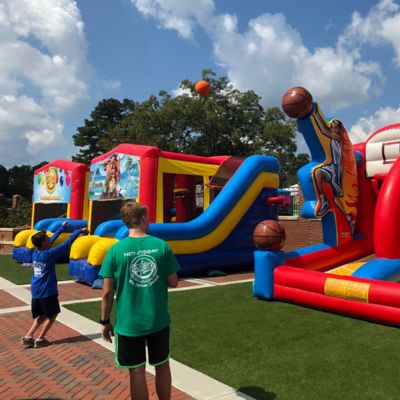 Jumptastic: Lawrenceville's Community Event Dream Team!
Elevating Backyard Gatherings to Community Spectacles!
At Jumptastic, we're not just renting bounce houses and water slides, we're the architects of unforgettable experiences that knit communities closer. Whether it's a local fair, a spiritual community fundraiser, or a grand opening bash, Jumptastic rentals are often the magic ingredient that adds that extra dash of joy and exhilaration. Our broad inventory goes beyond our crowd-pleasing bounce houses and water slides to include interactive game challenges, obstacle courses, and even concession machine stations. Imagine a local sports day amped up with our interactive games or a charity event made even sweeter with our cotton candy and popcorn machines.

Jumptastic is a rental provider and a community collaborator. We've been the heartbeat of countless community events, from New Year's Eve parties to local school festivals. Our inflatable party rentals are the soul of many a gathering, offering not just entertainment but also a sense of community spirit. We get the unique requirements of diverse events and offer bespoke solutions to make sure your event is the talk of the town.

Safety and quality are our cornerstones, and that's why every single item in our inventory undergoes rigorous quality checks and maintenance. We opt for premium materials that are designed to withstand the test of time, so you can focus solely on the fun without a worry about safety. And it's not just about the equipment – our team is committed to delivering top-notch customer service from the first point of contact until the last piece of equipment is packed away.

Our straightforward online reservation system takes the hassle out of the booking process for organizers, and our open pricing ensures there are no hidden fees. We even throw in free delivery within our service area to make sure your experience is smooth sailing from beginning to end.

So, the next time you're at a Lawrenceville community event, watching kids burst into laughter as they slide down a water slide, or families relishing some popcorn from one of our concession stands, remember that Jumptastic is the silent force ensuring everything goes off without a hitch. We're furnishing the gear and crafting memories, one event at a time.
Do You Deliver Bounce Houses and Water Slides Near Me In Lawrenceville?
Serving most of North Georgia, Jumptastic is Atlanta Metropolitan Area choice for event and party rentals! We offer a broad selection of entertainment, fun foods, and setup equipment for any size event. Tent Rentals, Tables and Chairs, popcorn machines, cotton candy machines, sno-cone machines, Concession Supplies, Carnival Games and more. Our vast rental inventory also includes the region's broadest selection of inflatables for all ages; Bounce Houses, Tent rentals, Bounce and Slide Combination Rides, Dry Slides, Water Slides and Dunk Tanks, Obstacle Courses, Interactive Games, Playlands and much more. And we can even offer event attendants to help with the crowd. We even have Inflatables that can be customized to fit your party theme, awesome Foam Parties for unique party themes, and Generators to power it all. With so much to choose from, we can help you plan the perfect party or event.
Our Service Area
Proud to Serve The Following Areas:


See a complete list of our
delivery area: Click Here
If your event is beyond that radius, just let us know! We frequently deliver even farther out, and special accommodations can usually be made to suit your needs - and your wallet.
NOTE: Fees may vary depending on how far you are outside our service area.
https://www.google.com/maps/d/embed?mid=19upPeF5ZEjd8Lvx61kluMxiZdWyiGf0P&ehbc=2E312F
Customers Who Rent Bounce Houses and Water Slides Also Shop For: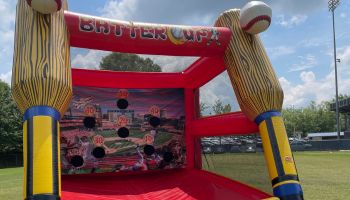 Interactive Games
Ready to level up the fun? Jumptastic's interactive games are the ultimate crowd-pleasers! From competitive challenges to cooperative play, we've got games that'll keep everyone engaged and entertained!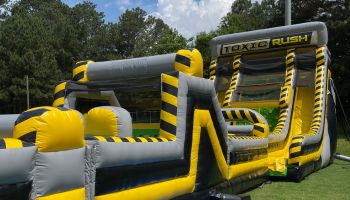 Obstacle Courses
Looking to foster teamwork and friendships? Dive into our obstacle course rentals! Perfect for jumpers of all ages, these courses offer a thrilling blend of climbing, crawling and bouncy fun!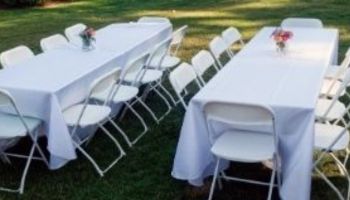 Tables & Chairs
Need a place for your guests to kick back when they're not bouncing around? Jumptastic's got you covered with our top-notch table and chair rentals. Practical, comfy, and perfect for any event!
Ready for the Time of Your Life? Jumptastic's Here to Party!
Hey party people of Lawrenceville! Are you ready to elevate your event from "meh" to "YEAH!"? Well, Jumptastic is here to make your celebration an absolute blast! Whether you're looking to make a splash with our water slide or get your bounce on, we've got the goods to make your event the talk of the town. So, let's dive into the fun, shall we?
Soak Up the Fun & Bounce to New Heights
Hold onto your party hats, because when it comes to
water slides
and
bounce houses
, we're not messing around. We've got slides that'll make you scream louder than a roller coaster and bounce houses that'll have you feeling like you're walking on air. And the best part? There's something for everyone! From the little kiddos to the young at heart, we've got you covered. And let's not forget our themed options—tropical themes, princess castles, you name it, we've got it!
Safety & Quality: Because We Care!
Now, let's get real for a sec. We know you're all about having a good time, but guess what? So are we! And nothing kills the vibe faster than a safety issue. That's why we go above and beyond to make sure our inflatable party rentals are as safe as they are fun. Each unit is inspected and sanitized because your well-being is our top priority. So go ahead, slide and bounce like nobody's watching! Plus, our team is trained to handle any situation, so you can party with peace of mind.
Elevate Any Event: We're Your Community Party Partner!
You see, we're not just about
party rentals
; we're about creating unforgettable experiences. From backyard birthdays to community festivals, Jumptastic is the life of the party! We've been a part of countless community events, adding that extra layer of excitement and joy. We are you party rental community partner. So the next time you're planning an event, remember: Jumptastic is your go-to for a good time! And hey, we're not just for kids. Corporate events, adult parties, we do it all!
Hassle-Free Experience: Because You Deserve the Best!
We get it. Planning an event can be stressful. But with Jumptastic, it's a breeze! Our team is here to make your life easier, from helping you pick the perfect rental to setting it all up. And hey, we even clean up after! So all you've got to do is enjoy the party. How awesome is that? Plus, our online reservation system is so user-friendly, even your grandma could book a
bounce house
!
Trusted by Lawrenceville: We're the Real Deal!
Don't just take our word for it; ask around! With years of experience and a ton of 5-star reviews, we're Lawrenceville's go-to for a reason. We're committed to making your event not just good but great. Because at Jumptastic, we're not happy unless you're ecstatic! We've served thousands of events, and each one is a testament to our commitment to excellence.
Ready to Party? Let's Make Some Magic!
So, what are you waiting for? Whether you're planning a summer splashdown or a bouncy bonanza, Jumptastic is your ticket to an unforgettable event. Browse our
water slide rental
and
bounce house rental
selection and make some magic happen! We're passionate about what we do, and we can't wait to share that passion with you. Let's create some unforgettable memories together!
Skip The Fees For Your Bounce House and Water Slide Rentals!
Hey, we get it! Life's a whirlwind, and who's got the time to scroll through endless options and hidden fees? You're planning a party, not solving a mystery, right? That's why at Jumptastic, we're all about keeping it real and transparent. No more last-minute surprises at checkout that make your jaw drop. We've kicked those pesky delivery and travel fees to the curb!

So here's the deal: all you've gotta do is reserve your bounce house rental, water slide rental, and any other party rental, and we will deliver for FREE. Yep, it's that simple. You're in the clear—no travel or delivery fees, nada! It's like getting a backstage pass to the ultimate party experience, without any of the hidden costs. We're all about making your life easier, so you can focus on what really matters: having an epic time!

So go ahead, plan that party of the year without worrying about the fine print. We're here to make sure your event is not just good, but Jumptastic-level awesome! And remember, whether you're throwing a small get-together or a massive community event, we've got your back every step of the way. No hidden fees, no stress, just pure, unadulterated fun!